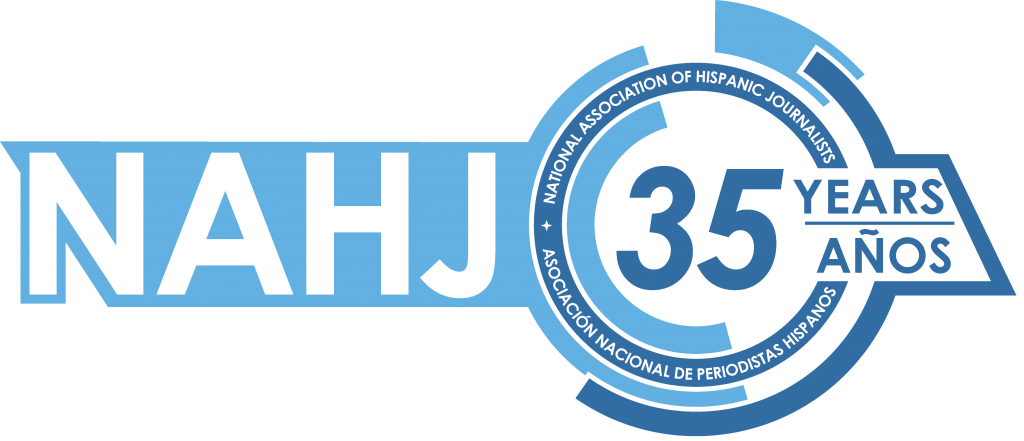 NAHJ Asks for Investigations into Abuse of Power and Racial Profiling by Police Officials Targeting Journalists Covering Protests
(Washington, D.C.) – Following a joint statement by National Association of Hispanic Journalists (NAHJ)  and allies condemning assaults by law enforcement on journalists covering protests across the country, the nation's largest association for Latino journalists is asking for investigations to be launched into the unlawful arrests of all journalists, with a focus on the majority detainment (and release) of journalists of color. On Sunday night, WSVN social media producer Joel Franco was arrested while covering protests in Miami, and Gustavo Martínez Contreras, APP reporter was arrested on Monday night while covering protests in New Jersey. 
These arrests follow last week's high profile, on-air arrests of Omar Jimenez, Leonel Mendez, and Bill Kirkos.   
According to Franco, after wrapping up on coverage and walking towards his car, he noticed a line of police trucks and pickup trucks looking for people who were breaking the curfew orders. Franco started to film as he continued walking toward his car, but when the officers noticed he was filming they threw him against his pickup truck, raised his arms behind his back, and detained him with a small zip tie. Franco spent the night in county jail. Following his release, Franco tweeted about his arrest and specified that he had his media credentials during the arrest on a charge for violating the county's curfew rules, which exempts employees of media companies as "essential" workers.
On Monday, Miami-Dade police admitted that the arrest of Franco was a mistake.  
The next day, Gustavo Martínez, a local journalist in New Jersey for APP (Asbury Park Press) was aggressively arrested while using Twitter's live stream feature, Periscope, broadcasting police brutality while trying to mobilize protesters that stayed out past a citywide curfew. 
Towards the end of the video, viewers can see how Martínez is harassed by officers telling him to go home. The video ends with an officer yelling "you're under arrest" and "get your f—ing hands behind your back."
A news photographer later captured an image of Martínez Contreras being loaded into a police van.
Martínez Contreras was taken to the Belmar Police Department and issued a summons for failing to obey an order to disperse then he was released. 
Attorney General Gurbir Grewal commented that the charges filed against Gustavo will be dropped.  Grewal apologized for the arrest by a city police officer. 
"We don't arrest reporters in this country and this state for doing their jobs," Grewal said. "We need to do better. We are going to figure out what went wrong here and do better."
"Journalists should not be arrested for doing their job, independently of how the arrest was made or if they were released the day at any point after — it is unconstitutional," said Hugo Balta, President of NAHJ. "The abuse of power by some police, and the complacency demonstrated by their colleagues in handling the press during demonstrations, is resemblant of an eroding democracy." 
The protests over the murder of George Floyd began over systemic racism and the abuse of power by police officials. Nonetheless, the world continues to witness these actions against protestors and journalists. Ongoing reports and documentation show protestors and journalists attacked with rubber bullets, tear gas, and pepper spray. Between racial profiling and a lack of training, the rights of journalists are being violated. 
All unlawful detainments should be held accountable with the same level of urgency, regardless of a journalist's employment through a national or local newsroom. These constitutional violations against journalists need to be amplified and investigated.  
While the world watches, reporters across the nation are risking their lives to bring the accurate and appropriate information to help mitigate the spread of social media content lacking context. Journalists are fulfilling their duty to keep their community informed even though it once again means putting their lives in danger with a growing likelihood they will be attacked or arrested. 
### 
About the National Association of Hispanic Journalists (NAHJ) 
The National Association of Hispanic Journalists (NAHJ) is the largest organization of Latino journalists in the United States and dedicated to the recognition and professional advancement of Hispanics in the news industry. The mission of NAHJ is to increase the number of Latinos in the newsrooms and to work toward fair and accurate representation of Latinos in the news media. Established in April 1984, NAHJ created a national voice and unified vision for all Hispanic journalists. NAHJ has approximately 2,500 members, including working journalists, journalism students, other media-related professionals, and journalism educators. For more information please visit NAHJ.org or follow on Twitter @NAHJ. 
Media Contact: 
BA Snyder
Veritas Group for NAHJ
512.630.6337
BA@VeritasAustin.com