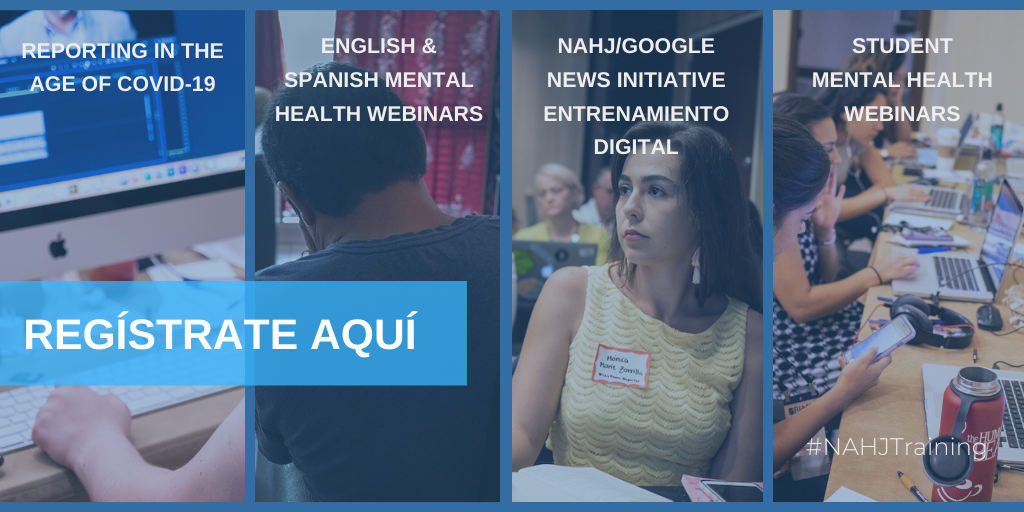 NAHJ TRAINING ONLINE INITIATIVES
NAHJ is programing a series of webinars, e-training and tutorials exclusively designed to benefit NAHJ members nationwide. These programs include the Google News Initiative Digital tools trainings (Spanish only), Digital Security (English & Spanish), Tips on how to work from home for journalists, and e-training for students, among others that will be announced soon.
These webinars and training will be open to NAHJ members only (unless specified). Join NAHJ today so you don't miss any of these opportunities and share the word with your colleagues. Have a financial/COVID19 hardship or been laid off? Email us at membership@nahj.org to ask for a free membership.
Webinars cost for non-members:
Student non-members – $10
Professional non-members – $20
Guide to Surviving a Layoff
Free and open to all.
It may feel like the end of the world when you get the bad news about being laid off, but it doesn't have to be. This step-by-step workshop will touch on topics like coping with the news, exploring freelance options, going over new unemployment changes and how to prepare for layoffs in advance. We will save time for questions and share our stories. We may not be able to prevent layoffs, but we can help each other get to the other side.
Presenter: Monica Castillo
Date – Wednesday, May 20th – 7:00 PM EST
---
NAHJ/Google News Initiative Entrenamiento Digital
Este curso de aproximadamente dos horas de duración capacita a todo periodista con el manejo de herramientas digitales creadas para la verificación de información y el manejo digital. A través de un enfoque práctico, los entrenadores comenzarán con una introducción a las tendencias en desinformación y noticias falsas. Luego, enseñarán cómo usar cada una de las herramientas y guiarán a los periodistas con diferentes ejercicios que les permitirán dominar las herramientas
Presentadoras: Romina Ruiz and Mc Nelly Torres

---