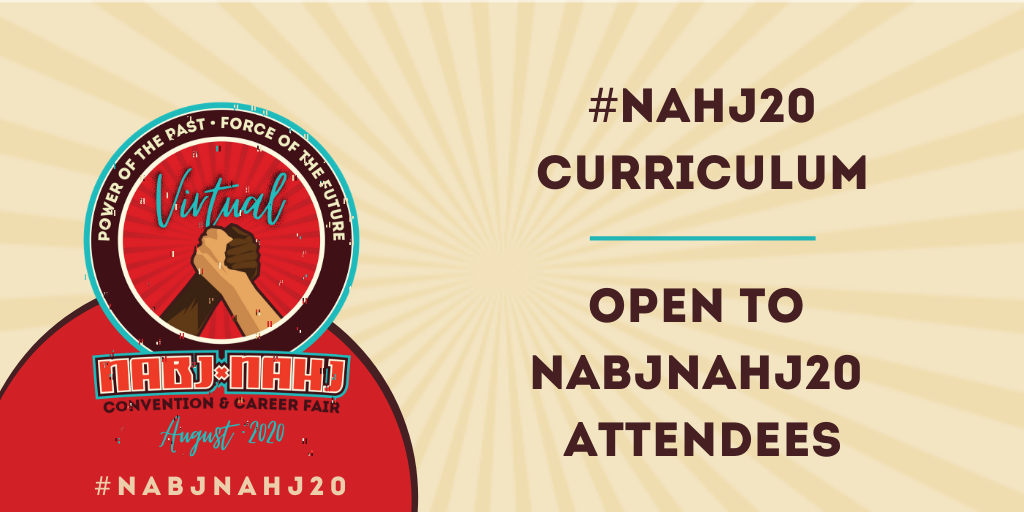 The #NABJNAHJ20 Convention & Career Fair is the premier conference for journalism education, career development, networking and industry innovation, attracting leaders and influencers in journalism, media, technology, business, health, arts and entertainment. The nation's top journalists, media executives, journalism educators, public relations professionals and students will gather online, August 5-8, 2020, for the first-ever virtual NABJ-NAHJ joint convention and career fair.
The #NABJNAHJ20 Career Fair draws hundreds of recruiters from top media companies and journalism schools from across the country and around the world.
Join us for an extraordinary gathering filled with innovative programs, remarkable presenters and fantastic networking opportunities, as NABJ and NAHJ members, partners, colleagues and supporters come together to make history.
#NAHJ20 Curriculum for NABJNAHJ20:
---
DIGITAL SECURITY TRACK (4 sessions + Office Hours)
David Huerta / Freedom of the Press Foundation , Gia Castello / Chicas Poderosas 
Lessons Learned About Account Hijacking from Reality TV Stars (EN)
Data breaches and account hijacking are so common and pervasive that there might seem like there's nothing we can do about it. However, behind the scenes, everything from Instagram account hijacking to Ring camera hacking is made possible not by an unstoppable cyber-army, but by our own password habits. In this session, we'll show you how to use 1Password to create unique, random and long passwords that will keep anyone from hacking your emails.
BONUS: All participants will not only learn how to use 1Password but will be able to get a 1Password account for themselves, for free (normally $36/year) through the 1Password for Journalism program.
Lecciones sobre Secuestro de Cuentas de estrellas de reality tv (ES)
El uso de tus datos y el secuestro de cuentas son tan comunes y generalizados, que a veces parece que es muy dificil hacer algo al respecto. Y no necesitamos un ejercito de hackers para evitar que nos secuestren una cuenta de Instagram o que tengan acceso a nuestras cámaras. Es posible hacerlo con buenos hábitos de ciberseguridad que podemos aplicar nosotres mismes. En esta sesión, te mostraremos cómo usar 1Password, una herramienta para crear contraseñas únicas, aleatorias y largas que evitarán que alguien piratee sus correos electrónicos.
BONUS: Todos los participantes no solo aprenderán a usar 1Password, sino que también podrán obtener una cuenta de 1Password de forma gratuita (normalmente $ 36 USD / año) a través del programa 1Password for Journalism.
Protecting your social media accounts from being hijacked (EN)
Social media, especially Twitter, has become a de-facto requirement for having a public presence online and promoting your stories. However, they can easily be manipulated into a weapon of online harassment, and in some cases, your account can be hijacked. We show you step-by-step what you need to do to keep the bad guys out. This will be a hands-on workshop, so bring your laptop to follow along.
Protegiendo tu cuenta de Twitter de ser secuestrada (ES)
Los redes sociales, especialmente Twitter, se han convertido en un requisito necesario para tener una presencia pública y promover historias. Sin embargo, Twitter puede volverse muy fácilmente en un arma de acoso digital, y en algunos casos, tu cuenta puede ser secuestrada. Te enseñaremos un paso-a-paso lo que puedes hacer para mantener alejados a los malos. Este será un taller práctico, así que prepara tu computadora para seguir el paso a pass.
---
DATA JOURNALISM/VISUALIZATIONS (2 Sessions) 
Luis Melgar / The Wall Street Journal, Emmanuel Martinez / The Markup, Lena Groeger / ProPublica 
¡Excelente! Investigative Reporter Starter Kit 
Description: Gone are the days of jotting down tally marks and doing all your math on paper. Learn how to summarize and analyze data quickly in Excel. In this session, you will learn how to quickly navigate through large amounts of data, from sorting and filtering to Pivot Tables. This session requires no past data or programming experience.
Show me your data –an introduction
Visualizing data has never been easier. But with great power comes great responsibility. This session reviews the essential concepts necessary to create insightful charts and what steps you'll need for making them. The session will teach the basics of creating charts and maps with Datawrapper.
---
DIGITAL SKILLS (2 Sessions)
Edwin Lopez / Industry Dive, Maria Jesus Perez Sanchez / Milwaukee Journal Sentinel, Lena Groeger / ProPublica
Investigative and accountability journalism
In this session we will talk about how to shape, pitch, frame, find the scope and report investigative projects and accountability stories. We will discuss public records requests strategies and how to have a documents and data mindset.
¿Quien tu eres? Tips and resources for building your digital footprint
To reach an audience, strong journalism also needs a strong brand. Brand makes you feel uneasy? Think credibility. Think SEO and SMO. This session will walk you through the why and how to build a website portfolio and the best social media practices. All in service to help the story of you and of your work.
---
FREELANCE TRACK (1 Sessions)
Alissa Figueroa / Type Investigations, Monica Castillo / Freelance
Freelancing 101: Getting started and finding support
Looking to strike out on your own? Hear from a freelance writer and a staff editor on how to pitch, find contacts, network and learn about grants and fellowships that fund travel and reporting, as well as what you need to know when working outside of a newsroom.
---
ENGAGEMENT TRACK (2 sessions)
Claudio E. Cabrera / The New York Times, Adriana Gallardo / ProPublica 
Create Journalism That's Useful to the Communities We're Covering 
When you're directly affected by an issue, you often know a lot about it. You can have information, leads and stories. Engagement reporting [at ProPublica] is about giving a place to share that kind of information. Our job is about connecting with, mobilizing and including in our reporting process communities who have information that becomes more powerful when it's all put together. In this workshop, we will cover the reporting, the people and the methods of engagement journalism.
Why SEO is Important for Every Content Creator
One of the most important methods of driving traffic for publishers globally is search engine optimization. But while brands understand the importance of SEO, many reporters have yet to add it to their toolkit in the same way they have with social media and video recording. This session will not only help you to understand why SEO is so important at your organization, but also how you can use SEO to make you a better reporter and understand your beat not just locally but globally.
---
 SPANISH-LANGUAGE TRACK (2 Sessions)
Lyng-Hou Ramirez / Grupo de Diarios America (GDA), Jessica Retis / The University of Arizona
Periodismo de Soluciones en tiempo de pandemia
El periodismo de soluciones es una técnica periodística que va más allá de la descripción de un problema o crisis, para concentrarse en las respuestas a desafíos sociales. Esta técnica, que permite crear una renovada relación de confianza en los medios por parte las audiencias, está cobrando impulso no solamente en Estados Unidos, sino también en América Latina, Europa y Africa, Aprenda en qué consiste el periodismo de soluciones y cómo aplicar sus herramientas clave para explorar nuevos ángulos en la cobertura de la pandemia del Covid-19 y otros temas, mediante el enfoque en ejemplos de iniciativas innovadoras que enfrentan problemas sociales persistentes con resultados positivos.
Estrategias de colaboración ente medios de América Latina y medios latinos en Estados Unidos: El caso del COVID-19
Periodistas de 15 países vienen trabajando en una red de colaboración continua donde contrastan y publican cómo los gobiernos de América Latina manejan la pandemia del COVID-19. Periodistas del Centro Latinoamericano de Investigación Periodística (CLIP) y Quinto Elemento explicarán las estrategias para establecer redes de colaboración periodística en tiempos de pandemic.
---
WRITING TRACK (1 Session)
Monica Castillo / Freelance, Jennifer Medina / The New York Times 
Reporting in a Socially Distant World
How do you report in our changed world, when most of us are confined to our homes? We often think of our job as bearing witness, but what do we do when much of the witnessing is through a screen? We will talk about strategies to conduct effective interviews by video, from six feet away and other ways to find reporting intimacy in this strange moment.
---
CAREER TRACK (4 Session)
Teri Arvesu / Univision, Victor Hernandez / Crosscut
Leadership lessons for managing a newsroom in a post-pandemic/truth age
Newsrooms are still largely driven by the on-going, underlying sense of urgency that came with the digital age of news production. Change and disruption have been the new normal in journalism for the past decade. But in today's rapidly-changing world — between a global pandemic, a protest movement that has overtaken the country, accelerated job loss, and a reality where journalists are being assaulted, threatened and lied to regularly — that need for authentic, strong leadership for our editorial teams has never been greater. This virtual workshop will feature veteran newsroom leaders charged with providing a framework for how attendees can develop innovative strategies for rising and leading in the face of unprecedented adversity.
Break into Business Journalism
Want to know how ___ landed __ source? Curious to hear what it's like to be a business journalist? Business journalists from five media outlets — from The Points Guy to The Wall Street Journal — get together for a conversation on what it takes to get into the business. This session is for you if you're looking for a career change, or even a first job, as you'll hear tips from seasoned reporters on how to get in the door and rise to the top.
Breaking into (and moving up in) Sports Journalism
Despite COVID-19, there are still ways to break into and move up within sports journalism. Learn the keys to the game from three veterans of the print, broadcast and digital sports journalism world.
How To Start A Career In Podcasting 
Whether you're a recent graduate, mid-career print journalist or someone looking to transition to a new career, it's never too late to tell stories with sound. Most radio and podcast producers have found their way into the industry through different paths, but all have shared similar hurdles along the way — especially those who are Latinx and PoC. In this conversation, we'll take you through the necessary skills you'll need to get your start in the podcast/radio world and how to overcome some of the challenges you may face along the way.
---
BROADCAST TRACK (1 sessions)
Joe Vazquez / KPIX, Stacey Baca / ABC 7 Chicago, Mireya Villarreal / CBS News
SURVIVAL OF THE HIPPEST – A broadcaster's guide to surviving the pandemic, set to the explicit songs of the summer
Whether you're working from home or using PPE to get out in the field, the COVID-19 crisis has dramatically changed how we cover news. In this Broadcast session you'll get tips and tricks from some of the best in the business. This Survival Guide session will cover new reporting logistics, getting people to talk during these difficult times, integrating diversity in your reporting and dealing with trauma while you're covering the trauma.
---
HEALTH TRACK (2 sessions)
Mental Health by Lu
Luisa Ortiz / Vita-Activa.Org
Trauma y Resiliencia son de un pájaro las dos alas.
En esta sesión compartiremos experiencias y testimonios de personas Latinx e Hispanas que practican el periodismo en la realidad actual, ofreceremos herramientas prácticas y construiremos un espacio para que practiques el autocuidado y cultuves tu salud mental.
Coping with Trauma and Resilience as Journalists
In this session we will share best practices and tools to cope with trauma, stress, burnout and the uncertainty of today's aggressions.