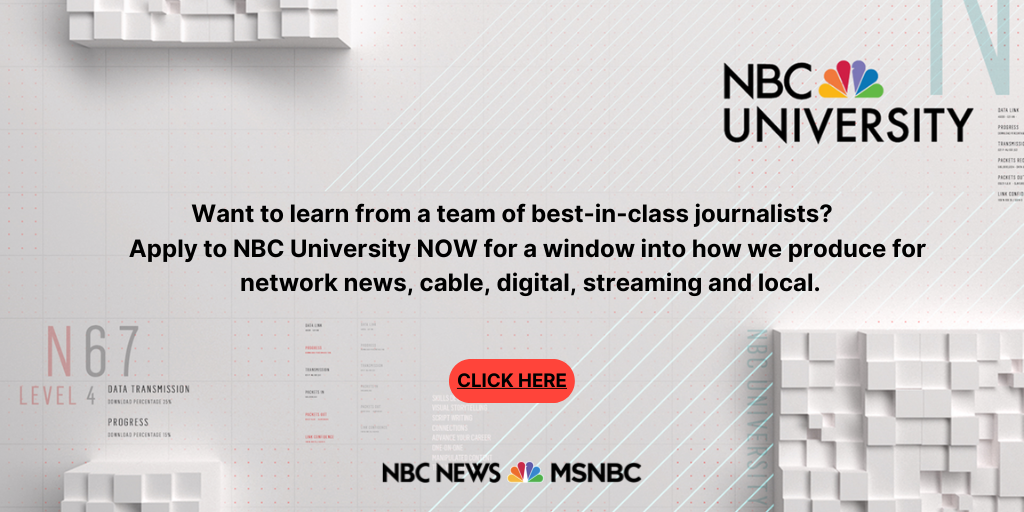 NBCUNIVERSITY
Are you interested in learning more from America's leading news organization? With No.1 programs across network and cable news, we are a team of best-in-class journalists. NBC University convenes our best and brightest to give you a window into how we produce for network news, cable, digital, streaming and local. We are looking for innovative, energetic, and intensely curious journalists interested in taking their craft to the next level. NBC University 2020 is a selective program that will take admitted applicants on a journey – from story concept to creation.
WHAT SHOULD I EXPECT?
• Timed writing and reporting exercises
• Conversations with NBC and MSNBC professionals to identify the most effective tools to improve your storytelling skills
WHO SHOULD APPLY?
NBC University is ideal for attendees who are:
• Producers with at least three years of experience hoping to move up the ranks and learn new skills
• On-air talent looking to move into a new market
• Veteran journalists interested in new media
• You must be registered to attend the 2020 NABJ-NAHJ convention to apply
The application deadline is July 13, 2020. Click HERE to Apply!
---